The solution to overcoming acne pimples is not waiting out puberty; it is the 5% salicylic acid face wash. The idea, you see, that puberty is the only cause of acne and breakouts is one of the biggest misconceptions among men and women all over the world.
It's understandable to associate acne pimples with teens years; over 90% of pubescent teens will struggle with these annoying little pop-ups. Yet, it is a condition that can affect everybody, and it is one that millions have fought before.
It is the same story with blackheads, whiteheads, spots, and general bad skin.
While there have been so many treatments and medications for lousy skin conditions as well as eye care when it comes to treating acne, blackheads, whiteheads, and spots, a face wash with salicylic acid and benzoyl peroxide are the perfect options.
These types of face wash are the ones that dominate the cosmetics Products. And with good reason; Salicylic acid is the greatest enemy of acne. Acne and the acid in the same location? Total disaster for the inflammatory guy.
So, What Is Salicylic Acid?
Glad you asked.
Salicylic acid is an oil-soluble, beta-hydroxy acid that has a composition perfect for unclogging skin pores, getting rid of impurities, and reducing excess oil from the skin. All of these, of course, the significant causes of acne pimples and blackheads.
The dead skin cells that are in the outer layer of the skin are also responsible for numerous breakouts, and salicylic acid helps to loosen the dead cells to make way for new and fresh skin. As a result, it is also a perfect exfoliating ingredient
Why 5% Salicylic Acid?
Because it is, despite how much we love it for its effectiveness, still an acid. So it can cause irritation, swelling, and even burn the skin if misused. This is why dermatologists have put the salicylic acid threshold in products at 0.5-5%
How About Benzoyl Peroxide?
Benzoyl peroxide is an antimicrobial medication also used to treat acne and related skin conditions by killing the bacteria in the skin that cause them.
Benzoyl peroxide and Salicylic acid actually work wonders together, and the best acne facial wash usually has them as the top ingredients.
What's Next?
Since we have established salicylic acid as the best acne-fighting ingredient in a face wash, we must now choose from the heap of products to curate the best acne facial wash.
And it's a heap alright; there are thousands of manufactures of acne cash wash in the industry. However, when we streamline the ingredients to exactly what we are looking for, its composition percentage (as 5% salicylic acid face wash), coupled with the different skin types, budget, complementing components, and reviews from what previous buyers have been saying, we have come up with a list of the best face wash for acne and pimples.
Depending on the skin type, the percentage of salicylic acid will vary from 0.5-5%.
1. Vichy Normaderm Daily Deep Cleaning Face Wash

Quality               98%
Review                90%
Price range       85%
The Vichy products are popular for their effectiveness and also for the natural and unique ingredients infused in their products. For example, the volcanic water used in this face wash is the core ingredient and packed with 15 vital minerals. The volcanic water is typically natural and helps to safeguard the skin by fighting bacteria.
The Vichy is deep cleansing for acne-prone skin types and also oily skin. It contains 0.5% salicylic acid, which is perfect for unclogging the skin pores without causing dryness. Other notable ingredients in this face wash include glycolic acid and exfoliating LHA (Lipo-Hydroxy Acid)
Dead Skin Recovery
Besides helping to fight Acne, the Vichy also has an exfoliating effect for peeling off dead skin cells. The translucent gel is very soft and gentle on the skin, given its texture. Finally, this product is allergy tested and alcohol-free.
we like
Soft and gentle texture
Acne-prone and gentle skin
5% salicylic acid
Purifies and unclogs pores in the skin
we don't like
2. CeraVe Salicylic Acid Cleanser Renewing Exfoliating Face Wash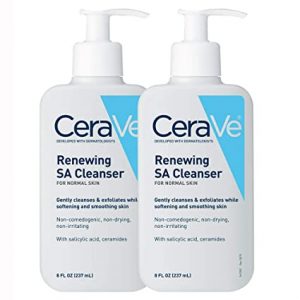 Quality             98%
Review             90%
Price range     85%
The CeraVe salicylic acid cleanser is famous for its crucial ingredient that helps to rebuild the skin and its natural protective barrier. It is the three essential ceramides, which are ceramides 1, 3, and 6-II.
More importantly, the CeraVe contains salicylic acid and is responsible for exfoliating the skin and fighting acne. Vitamin D component, which is a known mineral for tremendous and beautiful skin.
It also helps to protect the skin as an antioxidant. This product is perfect for oily and acne-prone skin types. Due to the hyaluronic acid which hydrates the skin and helps it to maintain its surface moisture, the face wash is also recommended for rough and dry skin. It is an all-round skin face wash with effective results.
Not to mention the microbead free quality of the CeraVe that ensures the skin is protected from microbeads in the atmosphere that can cause skin irritation.
more info
Furthermore, this product is fragrance-free, gentle on the skin, and non-comedogenic. For its price, it represents fantastic value for money
we like
Fragrance-free
It contains Salicylic, vitamin D, and Hyaluronic acid.
Microbead free
Non-comedogenic
Gentle on skin
3.Neutrogena Oil-Free Acne Face Wash Cream Cleanser
Quality             98%
Review              90%
Price range     85%
Both dermatologists and people with acne-prone skin love this oil-free face wash from Neutrogena for its remarkable effectiveness in curing breakouts, eliminating the possibility of future breakouts, and removing excess oil in the skin.
This acne cream cleanser contains 2% salicylic acid along with micro-clear technology that helps to fight acne and skin conditions at the source location in the skin. Typically, lots of facial cleansers simply operate as a layer to prevent the sprouting of acne pimples. Not this baby. The Neutrogena targets acne-causing bacteria down to the source and thus thwarts any chance of reoccurring in the future.
And this facial cleanser achieves its results by removing the excess oil in the skin and unclogging the pores that trap dirt. For people with dry skin, not to worry; the product has unique medication ingredients that prevent over-drying despite removing excess oil, leaving your skin smooth and free from irritation.
leading brand
Neutrogena is the world's leading dermatologist brand, and this facial cream cleanser is one of its many effective products. With a soft and soothing texture, it is built to care for your skin in a very gentle way.
we like
It contains 2% salicylic acid
Oil-free formula
Micro-clear technology to prevent future acne breakouts
Gentle cleansing of the skin
4: LAVO Glycolic Acid Face Wash For Acne-Prone Skin
Quality            98%
Review             90%
Price range     85%
This face wash is an incredible all-rounder for women, men, and teens. And it packs the most volume of effective ingredients of any face cleanser on this list.
The vital ingredient of the Lavo face wash is Glycolic acid —known as the chief exfoliator of the topmost layer of the skin. Glycolic acid as the exfoliating ingredient, salicylic acid for curing inflammation at the root, and consequently clearing the skin of acne and preventing breakouts, Lactic acid dissolves dead skin cells and opens up clogged pores; the Lavo is one of the most effective face wash on the planet. The perfect remedy for acne pimples, blackheads, whiteheads, skin blemish, and excessively oily skin.
And there's more. It has papaya, pineapple, and watercress extracts. The latter is filled with critical antioxidant vitamins like Vitamin A, C, and K. The aloe vera gel and soapwort extract is so smooth and gentle on the skin and helps to break up excess oil to give it an incredibly soft texture.
perfects face cleanser
The ingredients all combine to make it the perfect face cleanser for all skin types, and the minty smell leaves your face cool, energized, and refreshed to start your day.
we like
It contains glycolic, salicylic, and lactic acid
Money-back guarantee
Minty/menthol smell
Watercress extract with papaya and pineapple enzymes
5: La Roche-Posay Effaclar Medicated Gel Acne Face Wash
Quality              98%
Review               90%
Price range       85%
How about thermal water, containing selenium (an essential remedy for acne), made from France, splashing on your face in the morning? Amazing. Whether you know what the La Roche-Posay thermal water is or not. It is a core ingredient in this face wash that uses its antioxidant feature to fight acne-causing bacteria in the skin.
La Roche-Posay is developed with 2% salicylic acid to fight acne pimples at the source point and prevent breakout in the future. The latter is achieved—in combination with the salicylic acid—through micro LHA. The result is clear and smooth skin without excess oil.
useful for sensitive skin
This face cream is also great for sensitive skin; it has a healthy combination of ingredients to ensure the product is suitable for all skin types, including sensitive skin. Additionally, this face wash is thoroughly tested for allergy and is non-comedogenic. The recommended frequency of use is twice every day to get the desired results
we like
2% salicylic acid
Micro Lipo Hydroxy acid
Clears Acne and breakouts at the source point
Reduces surface oil close to 47%
It contains soothing thermal water
6: Paula's Choice CLEAR Pore Normalizing Cleanser
Quality              98%
Review              90%
Price range       85%
Paula helps acne treatment with 0.5% salicylic acid content that helps unclogs the pores in the skin that trap dirt and also remove excess oil. It also clears the skin of blackheads, redness, and related skin blemishes.
This face cleanser has a soft gel texture that is smooth and gentle on the skin when rubbing. And it is also perfect for all skin types, like oily, combination, dry skin, etc.
The product doesn't come with any type of fragrance, and this is an excellent feature for people who get irritable with the smell of some products of other facial cleansers.
rich in vitamins
Finally, this face cleanser has Arginine and Pro-Vitamin B5 for removing inflammation that irritates the skin and also gives it a smooth and soft feel, respectively.
we like
5% salicylic acid component
It contains arginine and Pro-vitamin B5
Clears blemishes, soothes redness and removes excess oil from the skin
Fragrance-free product with non-irritating effect
we don't like
Why is the Face wash 5% salicylic
The 5% is simply the threshold recommended by dermatologists. In fact, most salicylic face cleansers do not contain up to 5% of this acid. People have different skin types with typical varying sensitivity. So, to ensure that the product is safe and protected from skin burn, irritation, or peeling of the skin, the face wash is clinically-tested and ultimately never goes beyond the 5% mark.
Can I use it if I have allergies?
The best acne face wash that has ingredients like salicylic acid and benzoyl peroxide usually undergo allergy testing during manufacture. All the face wash on this list are allergy-tested to ensure that none of the components react harshly with your skin and cause damage.
What kind of face wash for acne do dermatologists recommend?
5% salicylic acid face wash is a recommended product for fighting acne—benzoyl peroxide is another. A combination of the two is also double-fast action and can cure acne very fast.
Other ingredients in the best face wash for acne and pimples are glycolic, lactic, and micro Lipo Hydroxy acids. Other products come with unique technology and feature to improve effectiveness.
Finally, all the 5% salicylic acid face wash on this list are the best you can find around, all recommended by the top dermatologists around the world, and are all feature Amazon choice products due to their popularity among buyers.
What is the Frequency for Using the 5% salicylic acid face wash?
Generally, each product comes with a recommended frequency of usage and style of application. However, if this is your first time using a salicylic acid product, you should take note of the effects on your skin from day one. If you are experiencing unusual dryness or irritation, you should stop usage at once.
For most skin types, the products on this list will cure acne while leaving it smooth and clear of blackheads and spots.
Conclusion
The 5% salicylic acid face wash is the best medication for acne, blackheads, whiteheads, and other related skin conditions. Dermatologists across the world continue to recommend it for its effectiveness.
And since there are so many products to pick from in the vast beauty-care industry, you need a guide to choose the best face wash for acne and pimples. This is why this list exists, and it contains the best 5% salicylic acid face wash you can find around.